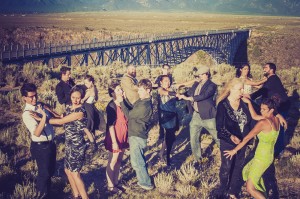 For all of the entangled, entrapped, or dangling souls out there we proudly present Gorilla Romance, Taos' very own live theater sitcom detailing in painful cathartic comedy the trials and tribulations of relationships and dating in our own darling northern New Mexican town.
Gorilla Romance is presented monthly at Taos Mesa Brewing. It is an episodic live comedy that follows the stories of six Taosenos as they navigate the perilous waters of trying to find true love with a little bit of spite, missed connections, and revenge along the way. Each episode is created by a team of local writers, featuring a guest contributor.
For more information, to share your own zany romance story that could be adapted for the stage, or to find out how you can get involved, check us out on facebook https://www.facebook.com/TeatroSerpienteTaos; or just give us a call at 575.737.8574.